Tuesday, March 12, 2019
How Three San Antonio Companies Are Incorporating Sustainability Best Practices
San Antonio's office and residential developers are backing up their commitment to sustainability with innovative projects that are saving energy, water, and money.
By John Egan
March 1, 2019
UrbanLand.ULI.org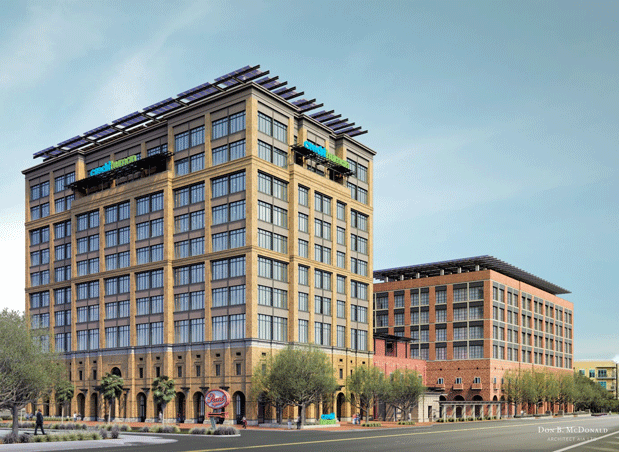 San Antonio's office and residential developers are backing up their commitment to sustainability with innovative projects that are saving energy, water, and money. Executives from three companies described their efforts at the ULI San Antonio Sustainability Forum in February.
During the forum, speakers from Credit Human Federal Credit Union, USAA Real Estate Company, and CVF Homes outlined their approaches to sustainability. The three share overarching goals for sustainability, but they execute on their goals in understandably different ways.
ULI is supporting these kinds of efforts through the Center for Sustainability Economic Performance (CSEP). "It's fantastic to have ULI Greenprint collaborate at the local level with ULI San Antonio and city policy leaders to promote partnership and innovation on real estate sustainability and climate action plans. This is exactly the type of market transformation to reduce carbon and build value across the real estate industry. Greenprint members continue to lead the market forward to achieve higher levels of building performance through sustainability implementation," said Billy Grayson of the ULI CSEP.
For instance, Credit Human Federal Credit Union is carrying out its dedication to sustainability through construction of its new 12-story headquarters in San Antonio.
Steve Hennigan, president and CEO of Credit Human, said that because he comes from a background in banking, rather than a background in real estate, he adopted a "different perspective and paradigm" in planning the building in order to challenge engineers and others involved in constructing the project.
As such, Hennigan urged those assembling the project to base their work not on current best practices but on what was "theoretically possible." As such, his stance was this: "Give me a reason why it can't be done."
The headquarters, which is under construction and supposed to be ready in 2020, appears to adhere to Hennigan's philosophy. He said the 200,000-square-foot (18,600 sq m) building will consume 46 percent less energy versus a comparable new building and 97 percent less water.
One of the ways that has been achieved is by taking a long-term view of the building, with Hennigan noting that Credit Human has occupied its current headquarters for more than 40 years.
"We have a history of buying and holding things," he said, "and so that allowed us to break through the conventions that we have to make these things work within five or six years."
In looking at the building through a long-term lens, Hennigan said that he and others addressed the demand for resources before examining the supply side. Sticking with that policy, they initially weighed elements affecting the performance of the building envelope—elements, he said, that will be "quantum in their payoff."
In coupling the supply and demand dynamics, the headquarters will, according to Hennigan:
Rely on solar energy for about 70 percent of the building's power, thanks to a 1-megawatt rooftop system.
Decrease water consumption through the installation of a 150-well geothermal network that will cut the evaporation effect of the lower number of cooling towers that are required.
Produce a continuous flow of hot water via the geothermal loop.
Not depend on any fossil fuel, since the building will lack boilers.
On a much larger scale, USAA Real Estate also is notching sustainability wins.
USAA Real Estate, the real estate investment arm of financial services giant USAA, has about $22 billion of assets under management, primarily millions of square feet of office buildings. USAA Real Estate is tackling sustainability at both new and existing structures.
"We don't just focus on a trophy class A building. We really look at our entire portfolio," said Jason McIntyre, director of real estate operations and sustainability at USAA Real Estate.
At existing properties, USAA Real Estate has instituted an energy and water analytics program that has yielded "astounding" results, McIntyre said. The program uses metering to measure energy and water consumption and efficiency at 15-minute intervals.
With those data, USAA Real Estate benchmarks its properties against past performance, the performance of peers, and ideal performance, McIntyre said. The data take into account such metrics as nighttime energy loads and daytime spikes in energy demand, enabling McIntyre and his colleagues to detect trends outside normal patterns.
"Some of those might be justified," he said, "but we like to identify those anomalies and address them."
McIntyre said that the bulk of the company's office portfolio is Leadership in Energy and Environmental Design (LEED) certified and Energy Star certified. In the course of more than 15 years, USAA Real Estate's attention to power and water resources has generated at least $25 million in savings. In 2016 alone, USAA Real Estate saw a more than 12 percent drop in energy consumption across its office portfolio, McIntyre said.
"I have yet to find a building where we can't identify savings and continue to drive value there," he said.
While much of USAA Real Estate's sustainability focus has been on existing buildings, new buildings also are under the microscope. Case in point: a recently completed project at its America Center office campus in San Jose, California.
Among the energy efficiency features of the 232,500-square-foot (21,600 sq m) addition to the campus are the windows. The "intelligent" View Dynamic Glass windows maximize natural light while reducing heat and glare, eliminating the need for blinds and creating a comfortable yet energy-efficient environment.
Back in San Antonio, homebuilder Juan Fernandez is embracing sustainability one house at a time. Fernandez is president and CEO of CVF Homes, a San Antonio company that specializes in green infill projects in the Alamo City.
At the ULI forum, Fernandez showcased a three-home infill development that was completed several years ago on downtown San Antonio's East Fest Street. The contemporary homes range from 1,300 (121 sq m) to 1,700 square feet (158 sq m).
Fernandez said that sustainability-promoting components of the Energy Star–certified, award-winning homes included the following:
Prewiring for electric vehicle charging.
CFL lighting. (At the time, LED lighting was cost-prohibitive, he said.)
An ample amount of natural lighting.
Low-flow water fixtures.
Gas-powered tankless water heater.
Zero-volatile-organic-compound interior paint.
Fernandez suggested that the homes' sustainability characteristics contributed to a boost in their resale value. For instance, he said, two of the three homes were resold about four years after their completion for 43 percent above the original sale price.
The ULI Greenprint Center for Building Performance is a worldwide alliance of leading real estate owners, investors, and strategic partners committed to improving the environmental performance of the global real estate industry. Through measurement, benchmarking, knowledge sharing, and implementation of best practices, Greenprint members strive to reduce greenhouse gas emissions by 50 percent by 2030.