Thursday, September 15, 2022
HVAC Firms Focus on Sustainability
Innovative approaches lower buildings' environmental impact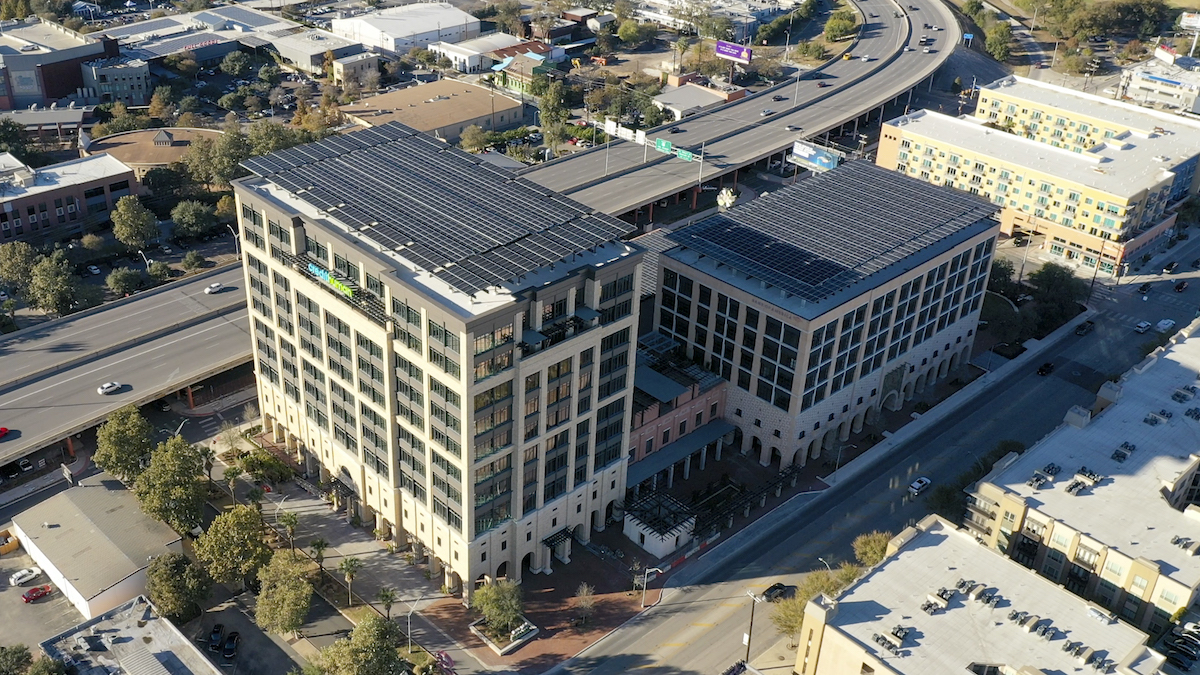 By: Matt Jachman
September 12, 2022
Sustainable commercial construction is the wave of the future, and, for many, the future is now.
Public awareness of the benefits of sustainable — some call them green — buildings is increasing. Studies show they can cut energy and water use, lower harmful carbon emissions, reduce the heat-island effect in urban areas, and even benefit the health and productivity of the people who work in them.
Along with that awareness, the sustainable construction sector is also growing. According to Verified Market Research, a marketing research and consulting firm, the global market for green building materials was worth $256.5 billion in 2020 and is expected reach $653.4 billion in 2028. Sustainable buildings can also be cheaper to maintain and more valuable than similar non-green buildings.
When it comes to HVACR systems in sustainable commercial buildings, how to get there? Three commercial HVACR sustainability projects — in a new building in San Antonio, the interior finishing of two floors of a New York City skyscraper, and the introduction of money- and energy-saving HVAC controls at a chain of California grocery stores — might help show the way.
"We want energy-efficient, comfortable, and healthy buildings that are less susceptible to unforeseen weather events, changes in energy prices or water supply issues, because they use less of these resources."
– Kimberly Llewellyn
Senior project manager, METUS
Sustainable San Antonio
The Credit Human Federal Credit Union headquarters in San Antonio, Texas, is a model of collaboration in sustainable design and construction. The 12-story building of more than 200,000 square feet opened in early 2021. It uses 96% less electricity than a typical similarly sized building and reduces carbon emissions by 91%, on a per-square-foot basis, compared to the former credit union headquarters, according to Mitsubishi Electric Trane HVAC U.S., or METUS, a joint venture focused on HVAC electrification.
METUS designed the building's geothermal HVAC system, working closely with developer Pearl Build LLC, Joeris General Contractors, and the engineering firm Glumac Inc. in trying to achieve Credit Human CEO Steve Hennigan's ambitious sustainability goals, said Kimberly Llewellyn, senior product manager of emerging markets at METUS.
"This was a full team effort," Llewellyn said.
Credit Human has a zoned METUS City Multi water-source VRF system tied to 152 geothermal wells, which cut the number of cooling towers needed from six to two, saving on water usage. The 900-ton system includes 35 heat-recovery units, which can provide heating or cooling to different building zones at the same time; six heat pumps, which provide either heating or cooling as needed; and 189 ducted, ceiling-mounted indoor units, all linked to a centralized, Trane-designed building management system.
"Some might refer to it as a 'hybrid' geothermal heat-pump system since it incorporates the two cooling towers in order to meet peak cooling loads," Llewellyn said.
The project's energy efficiency goals challenged METUS "in a good way," Llewellyn said.
"The targeted numbers left little room for error," she said. "Through close collaboration, the project team designed the system to maximize performance efficiency and avoided rework during installation."
"The water-source VRF system is probably the most efficient system you can design for this building," said Henry Delgado, a METUS mechanical engineer, in a published case study. "It takes advantage of multiple levels of heat recovery and allows you to design your system independently of ambient outside air conditions."
Solar panels on the roof provide 40% of the building's electricity needs, and the building recaptures most rainwater, another water-saving measure. A smaller adjacent building, the Oxbow Tower, shares Credit Human's well field, cooling towers, and chillers, and also includes METUS City Multi VRF components.
"Think about what we want from our next generation of buildings," said Llewellyn in a press release. "We want energy-efficient, comfortable, and healthy buildings that are less susceptible to unforeseen weather events, changes in energy prices or water supply issues, because they use less of these resources. These resilient buildings will be best positioned to thrive in the future."
Grocery Store Demand-Response
Sustainable commercial HVACR aims for energy cost savings, and that's the goal that brought Emerson Electric Co. to a California-based chain of family-owned grocery stores.
Emerson, partnering with Enersponse, which works with businesses and power companies to find efficiencies that ease stress on the grid, is involved in a demand-response pilot program at eight California grocery stores that was set to go live September 1.
Corey Wheat, an Emerson business development manager who worked on the project, said the system will allow the stores to cut back power usage during times of peak demand, making the chain eligible for financial incentives, per kilowatt-hour saved, from electricity provider Pacific Gas & Electric. (PG&E says roughly half of the electricity it produced in 2021 came from renewable sources.)
The program involves an Emerson E2 Facility Management System at each store that, working with Enersponse software, will automatically adjust the air conditioning (up) and lighting (down) during a high-demand event. Wheat said the plan is to have the adjustments last between 30 minutes and an hour during high-demand events.
During the events, Wheat said, air conditioning will be put at the chain's after-hours cooling level of 78°F.
"Most customers won't even notice that you've adjusted," he said.
High-demand events take place in the air-conditioning season, May through October, and are typically forecast by PG&E the day before, Wheat said, which allows the E2 system to pre-cool a building when it detects that an event has been called for the next day. The move will save an estimated 20 kW to 25 kW per hour at each store, Wheat said. If the pilot program is successful, he said, the chain may put demand-response systems into up to 60 of its stores.
"They definitely want to build this program out," he said.
Emerson has goals for the program, too, Wheat said: to link it to store refrigeration systems (which are limited to much smaller temperature variances because of the need for food preservation) and to save 75 kW per hour, per store.
"They're trying to be good stewards of the grid and do their part," Wheat said.
NYC Skyscraper: Up in the Air
HVAC is about heating or cooling the air in buildings and making sure it is clean and fresh. What better way to gauge whether a system is doing a good job or needs to be adjusted than by analyzing the air itself?
That's the approach Aircuity, an air-quality-as-a-service business, takes in designing its part of HVAC systems, including for the new New York City office of Skidmore, Owings & Merrill (SOM), the storied architectural and building engineering firm whose projects include the Willis Tower and John Hancock Center in Chicago and Manhattan's One Word Trade Center.
Aircuity uses a patented demand-control platform that continuously monitors air quality and uses the data to optimize ventilation and HVAC performance. The philosophy fit with SOM's plan to outfit its new Manhattan office, about 69,000 square feet on the 27th and 28th floors of the 7 World Trade Center building, to achieve a WELL building standard, developed by the International Well Building Institute. The standard is intended to have buildings support occupants' health and is designed to work with sustainable building principles.
IAQ, said Walter King, an Aircuity project developer who worked on the SOM project, tells a story about the health of a building — its occupancy and fresh air levels, whether filtration is working properly, whether the cleaning products being used are environmentally friendly, etc. Aircuity's laboratory-quality sensors measure humidity, particulate levels, CO2 levels, and the presence of volatile organic compounds (VOCs) in order to tell an HVAC system what to do on a real-time basis, King said.
For example, he said, at SOM, if all the employees are called into a conference room, the CO2 level there will go up, requiring more ventilation.
"We want to dynamically control that air," he said.
But when the SOM space is more lightly occupied, or unoccupied after hours, less conditioned air is needed, saving energy and carbon emission.
"Our system has allowed for a very sustainable design," King said.
At the New York SOM office, Aircuity had about 20 small air-sampling ports installed around the two floors, plus in the air handlers and air-intake area. The air is drawn through small tubing to a centralized sensor system, and the data is stored as well as sent to the HVAC controls — and also sent to big-screen monitors that tell occupants about the health of the air they're breathing.
Aircuity was brought into the SOM project in 2019, and the coronavirus pandemic shifted even more attention to IAQ.
"The project started before COVID, but then it became more meaningful with COVID," King said. SOM began moving in in late 2021, he said.
Aircuity remains involved in its projects even after construction is complete, King said, as the sensors in its monitoring systems are recalibrated every six months. King said the company recalibrates about 10,000 sensors a year; when the sensors in a building are taken out for recalibration, a new set is installed immediately so that there's minimal interruption of the system.
At SOM, Aircuity's system works alongside health and sustainability features such as wood cabinetry, wellness rooms, a lighting design that makes optimal use of natural sunlight, and plenty of indoor plants.
"These offices are a sign of our firm's cultural evolution," Chris Cooper, an SOM design partner who was in charge of the project, recently told Architectural Record. "The environment is healthy and warm, with a spirit of openness."